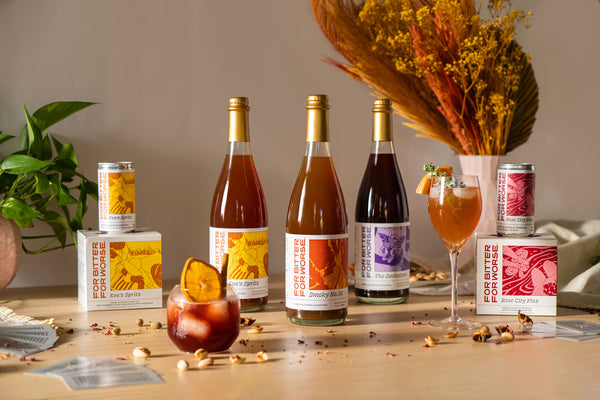 Smoky No.56 is our soulful, potent sipper, suited to the fireside table. This drink might remind you of the friend who tells you like it is—and then gives you the biggest, most accepting hug. The one you'll stay up late with.
WE TASTE: Smoke, Hint of maple, Citrus, Longing

Pairing: Barbeque, pork shoulder, oysters, spiced & salted mixed nuts, pumpkin pie, gingersnap cookies

Serve Suggestion: We suggest over a big rock, with an orange peel, and perhaps with a splash of still or sparkling water—but you do you!

GOLD MEDAL WINNER: LA Spirits Awards 2022

750 ml bottle: six 4-ounce servings. The bottle is sealed with a pry-off crown cap and accepts a standard "wine saver" found at grocery stores and wine shops.
 Please note: due to supply chain shortages, your bottle may not have a gold foil capsule over the crown cap. Thanks for your understanding.
Ingredients: filtered water, organic maple syrup, organic apple cider vinegar, organic fig concentrate, organic sweet orange peel, organic lapsang souchong black tea,** sea salt, organic spices, organic gentian root, organic decaffeinated black tea, organic dandelion root, organic bitter orange peel, non-GMO citric acid, organic monk fruit, vanilla
** 0.7 oz caffeinated black tea per 4 oz serving. 
Contains less than 0.5% alcohol by volume, 0.7 oz caffeinated black tea, 30 calories per 4 oz serving, Total carb. 7g, Total Sugars 7g (6g from organic maple syrup)
Contains 5% juice
Contains no milk, eggs, tree nuts, peanuts, wheat, fish, crustacean shellfish, or soybeans